ali_fib

JERUSALEM IN MY HEART (Canada)
&
THE OBSERVATORY (Singapour)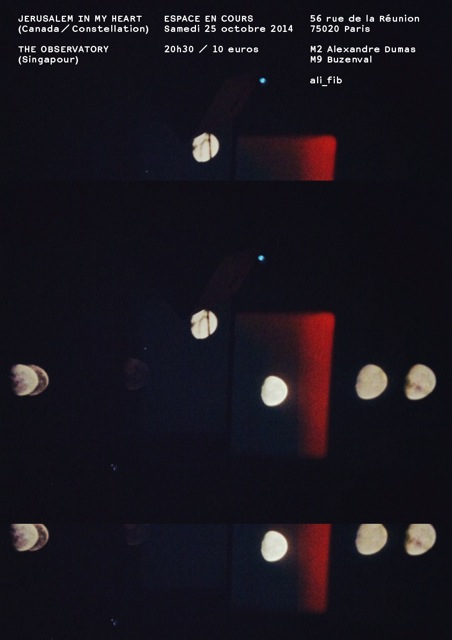 Samedi 25 octobre 2014
20h30

10 €

---
JERUSALEM IN MY HEART (Canada)
---

Jerusalem In My Heart (JIMH) has been a live audio-visual happening since 2005, with Montréal-based producer and musician Radwan Ghazi Moumneh at its core. Moumneh is a Lebanese national who has spent a large part of his adult life in Canada and has been a fixture of the Montréal independent music community from his early days as guitarist in various notable 90s bands to his tireless activity as a sound engineer and producer over the last decade. Moumneh is also active in the Beirut and Lebanese experimental music scenes, where he spends a few months every year.
With performances occurring 1-3 times per year, no two Jerusalem In My Heart events have ever been the same: configurations have ranged from 2 to 24 participants, with varying degrees of theatrical stage action alongside a film/video component. Moumneh's vocals and purposefully blown-out sonic sensibility have been the consistent thread, but the music of JIMH has never repeated itself either – one of the reasons Moumneh has resisted any official documentation or definitive recording of the project over the past eight years. At long last, in 2012 Moumneh cleared time and mental space to record a song cycle that cements the foundations of JIMH as an intensely vocal-driven musical project.
JIMH has always been an immersive sonic and visual live experience; on the musical side, an evolving effort to forge a modern experimental Arabic music that weds melismatic singing in classical Arabic modes to electronic compositions with a punk-rock production sensibility. Mo7it Al-Mo7it captures and conveys all of this, while emphasising the intimacy and narrative pace that focused, intentional studio recording allows. The result is a unique and profoundly emotive album of contemporary Arabic music, a stunningly subtle first record for a musical project that resisted documentation or any sort of fixity for so many years. Moumneh's voice has become a powerfully authentic instrument and his production techniques – applying distortion, space echo and delay to varying degrees – lend a timeless intensity to the recording. Saturated synths and the overdriven signals of Moumneh's acoustic playing on buzuk and zurna reinforce the reigning sensibility, providing bracing counterpoint to the vocals and lovely, searching instrumental narratives in their own right.
Jerusalem In My Heart currently exists around the core of Radwan Ghazi Moumneh carrying musical duties and Montreal filmmaker Charles-André Coderre projecting hand-made visuals using analog 16mm film & 35mm slides on multiple site-specific screen installations.
Plus d'information sur Jerusalem In My Heart sur le site du groupe et de Constellation.
---
THE OBSERVATORY (Singapour)
---
The Observatory – a name that seemingly implies passive objectivity, but which really describes a band whose musical output is an impassioned response to the society it is enmeshed in, a society divided, a society in tumult — where new forms of oppression must be actively met with new strategies for resistance. The heart and soul of The Observatory is in its constant reinvention. With each release, the members have persisted in their experimental take on the pop songform. In 12 years, the band has gone from folk electronica to prog to avant rock, to approaching a more primal sound in recent years, evident in their fifth album, 'Catacombs' — a study in delusion, insanity and obsession, and a voice of social conscience. The Observatory's music is texturally complex and viscerally emotional, crossing wasted borders and musical extremities that parallel polarities within human existence, lyrically provoking and inspiring in a deeply enigmatic way. The members are huge music fans. The gang of five draw inspiration from their Southeast Asian roots and contemporary heroes of new music and art. Fusing a wide mix of influences, their sound is a stirring concoction of potent and powerful extremes.
Current line up:
Vivian Wang (Synths, Keys, Various), Leslie Low (Vocal, Guitar, Drums), Dharma Shan (Guitar), Cheryl Ong (Drums, Percussions), Yuen Chee Wai (Synth, Electronics)
Plus d'information sur The Observatory sur le site du groupe et sur SoundCloud.

---
Prochains concerts ali_fib :

Steve Gunn @ Espace en Cours (jeudi 20 novembre) – plus d'info

Arlt + Thomas Bonvalet | Faune @ Espace en Cours (lundi 1er décembre) – plus d'info

---
Informations pratiques :

ali_fib gigs
Jerusalem In My Heart | The Observatory
samedi 25 octobre 2014 – 20h30
10 €
Espace en Cours
56, rue de la Réunion
75020 Paris
M2 Alexandre Dumas / M9 Buzenval
poster designed by Xavier Antin
Pour retrouver l'événement sur FB, c'est ici