Chantier(s) #19

POLO   Improvisation électroacoustique solo
Brad HENKEL & Weston MINISSALI Trumpet Trumpet Synthesizer
Espace En Cours
56 rue de la Réunion 75020 Metro Buzenval 8€ (+ 2€ d'adhésion à l'association)

___________
POLO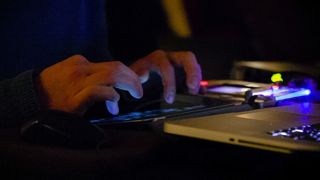 Né en 1976, joueur d'ordinateur spécialiste en performances électroniques et traitement sonore informatique en direct. Il travaille comme musicien solo dans le domaine de l'électroacoustique tout en participant régulièrement à diverses créations de danse et autres collaborations audio. Son but est de sculpter l'objet sonore d'une façon personnelle, mêlant techniques radiophoniques (issues du reportage ou des pièces) avec la composition acousmatique.
http://polosound.free.fr/Polosound/Polosound/Polosound.html
___________
TRUMPET TRUMPET SYNTHESIZER

Brad Henkel (trumpet, electronics)
Weston Minissali (synthesizer, voice)
Trumpet Trumpet Synthesizer (feat. members of Cloud Becomes Your Hand, HAG, VaVatican), are based out of Brooklyn and bring some odd strategies to bear upon the often-stuffy tropes of improvised music – turns out, vocoder/synth and trumpet can get downright sexy if you let em drift just right!
This sidelong piece, recorded between 2012 and 2013, marries the grit, spit, and oomph of Brad Henkels amplified trumpet and the hushed, baby-soft sighs of Ericha Eso's (Weston Minissali) vocoder/vocal/synth in a way that seems tailor made for quietly undermining any expectations.
'Oh Baby' goes through several sections that hang together tenderly throughout, though changing tone quite a bit before the piece's completion – a nearly neo-soul beginning with warm subharmonic bass notes float right through extended trumpet work that simultaneously functions as off kilter beatwork as it does a tonal aspect of the overall sound. Later, an array of high pitches tangle into a knotty blast that stops just short of uncomfortable, dropping into a subdued section of sighs, whispers and distended tones that flicker out like the last candle in the latest evening.
http://weirdear.com/trumpet-trumpet-synthesizer-horaflora-split-wer-007/

BIOS
Brad Henkel (b. 1985) is trumpeter and composer recently relocated from NYC to Cologne, Germany. His work integrates composition and improvisation with new and innovative instrumental techniques and performance art. He maintains a busy schedule performing contemporary and improvised music in venues throughout the United States and Europe.
In 2011 he co-founded Prom Night Records, an artist run record label based in the United States which, to date, has twenty one releases. He co-curates a concert-series in Cologne entitled « Luftbrücke » with the mission of bringing young, experimental music from USA and various other countries to Cologne, opening a dialogue amongst diverse music scenes.
www.bradhenkel.com

Weston Minissali (b. 1989) is an avant garde composer and synthesizer player living between the Hudson Valley and Brooklyn, NY. He has been an artist fellow at the Millay Colony for The Arts in upstate NY as well as Art Farm in Nebraska. His graphic scores have been published in art books such as Emma Magazine and EDNA. His current artistic practice revolves around the exploration and innovation of the synthesizer while maintaing a physically engaged electronic music performance technique. He regularly tours extensively around North America with various ensembles and has released 6 full length albums through experimental brooklyn-based labels Northern Spy Records and Prom Night Records.
___________
Special thanks :
This Chantier(s) concert is curated with the help of Cyprien Busolini
Pali Meursault for this great new graphic design

Copyright © 2015 Cathy Heyden, All rights reserved.
Vous recevez cet email car vous nous avez exprimé le souhait d'être tenus informés de nos activités musicales. Merci ! You are receiving this email because you once agree to be added to our mailing list about our musical activity. Thanks !
Our mailing address is:
Cathy Heyden
infos.cathyheyden@gmail.com
PARIS 75
France